[ad_1]

Supersonic bombers of Russia Tu-160 set a world record for the range and duration of a non-stop flight. This was announced on Saturday, September 19, by the commander of the long-range aviation of the aerospace forces (VKS) of the Russian Federation, Lieutenant General Sergei Kobylash.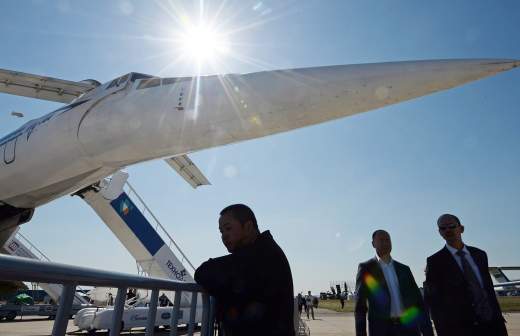 The illusion of opportunities: why do we need a supersonic passenger aircraft Will the new development of the domestic aviation industry be able to strengthen its position on the market?
"Today, two long-range aviation crews have set a new record for the range and duration of flight on the Tu-160 supersonic strategic missile carriers. The pilots of the Russian Aerospace Forces were in the air for more than 25 hours, having covered over 20 thousand km, "he said.
The Ministry of Defense clarified that the flight of two Tu-160s took place over the neutral waters of the central part of the Arctic Ocean, the Pacific Ocean, the Kara Sea, the Laptev Sea, the East Siberian, Chukchi, and Barents Seas. At certain stages of the route, the strategic missile carriers were accompanied by Su-35S fighters, as well as by aircraft of foreign countries.
During the flight, the bombers performed three mid-air refueling from six Il-78 aircraft.
The previous record 10 years ago was also set on the Tu-160, which spent 24 hours and 24 minutes in the air.
This week, Norwegian Air Force F-16 fighters escorted Russian Tu-160 missile carriers over the Atlantic Ocean, the Norwegian and Barents Seas.
In April, the Russian Ministry of Defense received two Tu-160 strategic missile carriers after modernization. On both ships, inertial navigation and engine control systems, as well as weapons, were improved.
[ad_2]