[ad_1]

Two Tu-160 missile carriers within the framework of the active phase of the joint Belarusian-Russian exercise "Slavic Brotherhood – 2020" made a special flight along the southwestern, western and northwestern borders of Belarus. Izvestia was informed about this on Tuesday, September 22, at the press service of the Russian Defense Ministry.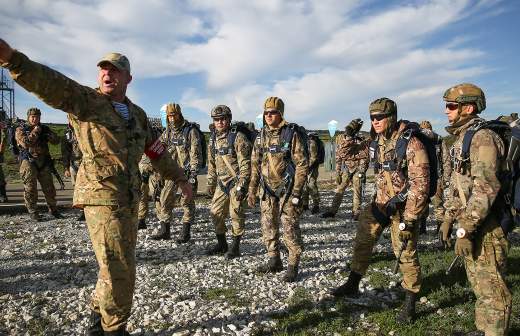 The paratrooper's shadow: how Minsk and Moscow agreed on military exercises In the parliament of Belarus, the upcoming maneuvers are not connected with the political situation in the republic
The bombers took off from the Engels airfield.
"During the flight, the Russian pilots worked out the issues of operational interaction with the fighter aircraft of the Belarusian Air Force on air cover for the actions of the joint tactical group on the ground," the defense ministry said in a statement.
The Ministry of Defense also noted that a battalion tactical group of the Tula formation of the Russian airborne troops arrived at the Gozhsky training ground near Grodno, and Russian paratroopers from the battalion tactical group of the Pskov airborne assault formation arrived at the Brestsky training ground.
As part of the exercise, Russian and Belarusian military personnel practice the tasks of landing from helicopters, seizing an area for landing, parachuting the main forces from Il-76MD aircraft, blocking a settlement, as well as destroying conditional illegal armed formations.
In total, more than 900 people will be involved in the exercise from the Russian side during the active phase. and about 100 units. military and special equipment.
Two days ago, within the framework of the exercises, military units of Russia and Belarus parachuted from a height of 600 meters. Six aircraft of the Russian Aerospace Forces and an Il-76 aircraft of the Belarusian Air Force participated in the landing of the Russian-Belarusian troops. Special-purpose units used the Arbalet-2 and Lesnik parachute systems.
The maneuvers are taking place at the Brest training ground. Last week, Russian Ambassador to Minsk Dmitry Mezentsev said that the "Slavic Brotherhood" is of a planned nature.
The exercise began on September 14th and will run through September 25th. The paratroopers of the two countries will work out the issues of interaction between units in the performance of tactical tasks.
[ad_2]