[ad_1]

Tankers of the Central Military District repelled a night attack of a mock enemy during tactical training in the Orenburg region with the help of thermal imagers. This was reported by the Russian Ministry of Defense.
It is noted that the crews of the T-72B3 tanks used Sosna-U thermal imagers. They were able to spot conditional opponents at a distance of up to 3 km and then hit targets with 125-mm weapons.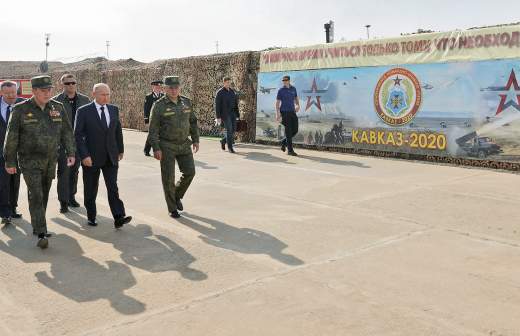 Fight according to new rules: what the president saw at the Caucasus-2020 exercise For the first time, a modern element of the formation of troops – a "mobile echelon" was tested
At the same time, the conditional enemy tried to break through the defenses with the help of heavy armored vehicles and mortars. They were not allowed to do this by the drones, which established the location of the "enemies" in time.
The Ministry of Defense also added that the actions of the tankers were supported by the Msta-S self-propelled howitzers. They illuminated the battlefield with illuminating shells and hit the firing points of the conditional enemy.
The strategic exercises Kavkaz-2020 began in the Southern Military District (YuVO) on September 21. More than 80 thousand people are involved in the maneuvers. The main events take place at the Prudboy, Ashuluk, Kapustin Yar training grounds, as well as at the Arzgirsky and Kopansky air training grounds.
The main objectives of the Kavkaz-2020 exercise are to test the combat readiness of the commanding staff and military command and control bodies of the Southern Military District, to increase the level of interaction of troops in the course of peacekeeping and military security tasks, as well as to test the readiness of the Armed Forces of the Russian Federation and partner states to protect national interests in the course of solving joint problems.
In particular, within the framework of the exercises, the military practiced highly maneuverable defense with the participation of motorized rifle units with the support of artillery, a massive bombardment of simulated enemy targets at ranges near Astrakhan, and also showed effective protection against tank attacks.
On September 25, the Kapustin Yar training ground was visited by Russian President Vladimir Putin and Defense Minister Sergei Shoigu.
[ad_2]