[ad_1]

The Russian military took several dozen aircraft into the air, including anti-submarine Tu-142, during the Ocean Shield 2020 exercise. This was stated by the commander-in-chief of the Russian Navy, Admiral Nikolai Evmenov, under whose leadership these exercises are taking place, on Saturday, August 29.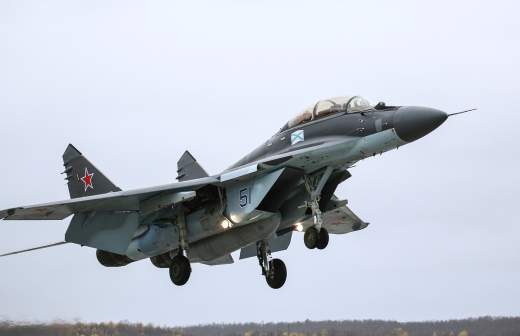 "MiG" has arrived: pilots of carrier-based fighters will add virtuality New information display system will help pilots in battle and study
"10 Tu-142 anti-submarine aircraft performed scheduled flights to the distant sea zone over the waters of the Black, Baltic, Norwegian, Chukchi Seas, the Beaufort Sea, along the Northern Sea Route and over the neutral waters of the Pacific Ocean," Evmenov said.
According to him, NATO fighters accompanied 10 anti-submarine Tu-142 during the flight in the far sea zone.
The military commissar noted that there were no violations of security measures and international rules for the use of airspace. During the flights, the crews of the naval aviation demonstrated high professionalism, confirmed their combat readiness to solve the assigned tasks in any areas of the World Ocean under any conditions of the situation.
"Within the framework of the Ocean Shield 2020 naval exercise and combat training events, 33 aircraft, 15 helicopters, as well as unmanned aerial vehicles of the naval aviation of the Navy flew out simultaneously," Evmenov said.
He stressed that eight aircraft and three helicopters in the Black Sea Fleet, six aircraft and 11 helicopters in the Baltic Fleet, nine aircraft and one helicopter in the Pacific Fleet and 10 aircraft in the Northern Fleet made simultaneous flights.
The day before, the Russian Ministry of Defense reported that NATO fighters climbed to escort Russian aircraft over the neutral waters of the Baltic Sea, the Arctic and Pacific Oceans, which flew as part of the "Ocean Shield – 2020". In more than 12 hours, aircraft crews covered routes over 10 thousand km long.
Eight Tu-142 anti-submarine aircraft, four Il-38 anti-submarine aircraft, two Su-24M bombers, two Tu-95MS strategic bombers and one Il-78 tanker took part in the flights.
[ad_2]