[ad_1]

The Russian military police will receive powerful armored vehicles that will be able to operate effectively both within the country and abroad. The "Patrol" vehicles based on KamAZ are practically invulnerable to mines, small arms and shrapnel. "Red berets" plan to use them to escort convoys, patrol settlements and other tasks. The main deliveries of equipment are planned for this year, sources told Izvestia in the military department.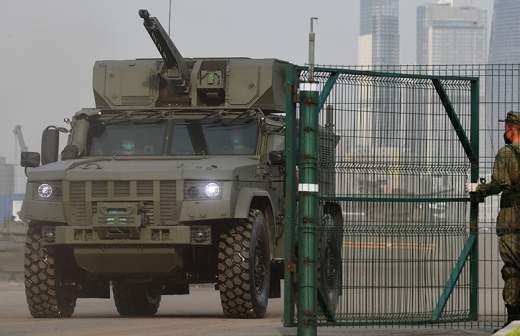 Change of wheels: new armored vehicles will change the face of the Airborne Forces The first promising armored vehicles "Typhoon-Airborne" will receive reconnaissance and special forces of paratroopers
The Patrol armored car was created on the basis of the KamAZ-43502 two-axle truck. With a length of 7 m, the vehicle weighs about 12 tons and is capable of transporting up to 10 personnel in full gear and with a set of personal weapons. The armor can withstand hits from submachine gun and pistol bullets, as well as ammunition from heavy machine guns. If necessary, "Patrols" can destroy barricades and even break through walls in buildings.
The sides of the vehicle are equipped with loopholes, and the structure itself can withstand the detonation of an improvised explosive device equivalent to 5 kg of TNT.
Armored vehicles "Patrol" are indispensable for the actions of military police abroad, said military expert Viktor Murakhovsky.
"The military police are involved in both Syria and Nagorno-Karabakh. She needs armored vehicles, the sooner they get new vehicles, the better. "Patrols" can be used in areas of intense hostilities or where there is a high threat of terrorist attacks, shelling, etc. And in quieter areas, military police can ride in maneuverable Tigers, he said.
Several years ago, "Patrols" entered service with units of the Russian Guard. They are used to equip riot police units and patrol and patrol services, performing tasks to prevent riots. Armored vehicles for Rosgvardia are delivered without weapons installed on them, but with special light and sound signals.
Over time, the military also took a closer look at the novelty. The need for powerful and well-protected vehicles began to be felt especially early last year, when joint patrols were organized in some areas of Syria by agreement between Moscow and Ankara. On the Russian side, it was carried out by the "red berets" on light armored vehicles "Tiger".
Read more in the Izvestia article:
Right of "Patrol": military police will be equipped with cargo armored vehicles
[ad_2]