[ad_1]

Russian and Mongolian servicemen conducted the Selenga-2020 exercise. This was announced on Monday, November 2, by the press service of the Eastern Military District (VVO).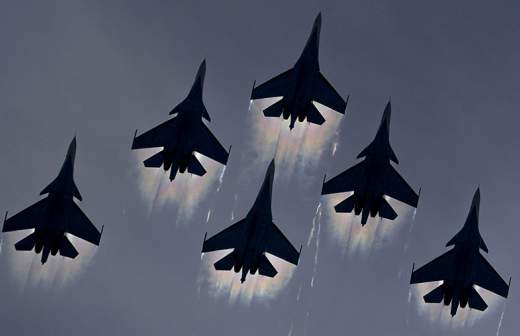 Descended from the skies: the results of the experimental air exercises were summed up During the day, fighters and bombers fought over several regions of Russia
The Russian-Mongolian military exercises "Selenga-2020" were held at the Burduny training ground in Buryatia and Doytym An in Mongolia. For the first time, international military maneuvers due to COVID-19 have been in a modified format.
Previously, exercises with the participation of Russian and Mongolian military personnel were held every year in turn in both countries, the total number of participants exceeded 1,000 people. This year, military units worked out tasks only on their own territory. The exercises were commanded from the Burduny training ground, where 12 officers of the Mongolian Armed Forces arrived from a neighboring state last week.
"The main stage of the Russian-Mongolian exercises" Selenga "is over. A feature of the joint exercises was the drawing of tactical episodes by the Russian and Mongolian sides, each at its own training grounds, using online monitoring of the course of practical actions using webcams located at different training points, and using secure communication channels, "the press release said. service VVO.
From the Russian side, tank and motorized rifle units of the combined-arms army of the Eastern Military District, stationed in the Republic of Buryatia, were involved – a total of about 650 people and more than 100 pieces of equipment. The troops of the Armed Forces of Mongolia used about 450 people and over 100 units of automobile and mechanized equipment at their training ground.
"For the first time, at the Selenga exercises, Russian military personnel used modern reconnaissance equipment and unmanned aircraft systems," the statement said.
Mobile electronic warfare groups of the Air Defense Forces showed their colleagues from Mongolia the effectiveness of the use of electronic suppression of control channels of a simulated enemy UAV with the help of the newest Pole-21 jamming station. The servicemen suppressed the channels of linking drones to global satellite and radio navigation systems.
During the Selenga-2020 exercises, the Tornado-G multiple launch rocket systems, the Akatsia self-propelled artillery mounts, the Grach Su-25 attack aircraft and the Mi-24 and Mi-8AMTSh attack helicopters were used.
Earlier, on October 29, the Ministry of Defense of Belarus announced joint exercises with the Russian Federation "West-2021".
In September, Belarus hosted joint exercises with Russia "Slavic Brotherhood". The paratroopers of the two countries worked out the issues of interaction between units in the performance of tactical tasks.
[ad_2]