[ad_1]

The Ruselectronics holding, which is part of Rostec, presented a module capable of detecting unmanned aerial vehicles (UAVs) by sound. This was reported by the press service of the state corporation on Tuesday, October 20.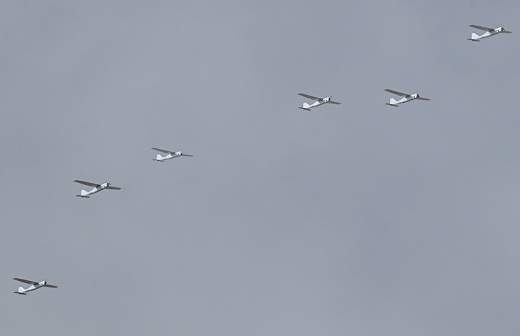 Shot down in a flock: the military united groups of drones in the exercises From one headquarters, you can control the actions of hundreds of drones at a distance of thousands of kilometers
"The Ruselectronics holding of the Rostec state corporation at the Interpolitech-2020 exhibition for the first time presented the Ataka-Shorokh acoustic reconnaissance module, which allows detecting drones flying in radio silence by sound," the release notes.
The launch of the module into serial production is scheduled for 2021.
"Attack-Rustle" is equipped with ultra-sensitive microphones that determine the location of the drone. The detection range of drones depends on external noise and ranges from 150 m to 500 m.
The novelty "will allow detecting emergencies, offenses, mass gatherings of people by characteristic noises" and can be integrated into the Safe City system and industrial security systems.
Rostec indicates that this will allow, for example, to automatically deploy CCTV cameras in the direction of the detected noise.
The device can be integrated into the UAV radio countermeasure system. When it detects drone noise, it will turn on the transmitter and jam the drone control signals.
As the designer of NPP Almaz (part of Ruselectronics) Dmitry Zolotykh told RIA Novosti, when the drone control signals are suppressed, they lose control and either sit down at the point where they lost control, or return to the starting point.
He added that the system is trainable: it is possible to put data on some sounds that the device will be able to detect.
It is possible to use "Attack-Shorokh" at high-risk facilities, for example, at large enterprises and "special-purpose enterprises".
In March 2019, Ruselectronics developed a new Ataka-DBS anti-drones system capable of preventing drones from entering private territory.
At the end of October of the same year, Rostec announced that the novelty had been successfully tested on the territory of the Catherine II International Airport in Krasnodar.
[ad_2]