[ad_1]

The Russian military conducted the first network-centric exercises, during which they used Msta self-propelled artillery installations (ACS), equipped with the equipment of a unified tactical control system. This was announced on Tuesday, January 19, by representatives of the Western Military District (ZVO).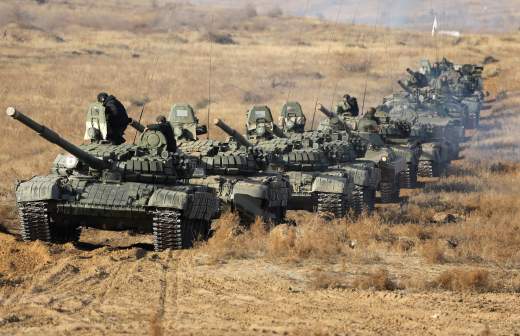 Steppe Strike: How Russia and Mongolia Stopped Hybrid War At the Selenga-2020 maneuvers, the troops of the two countries worked out new scenarios for the first time
It is clarified that the exercises were conducted by artillerymen of the Elninskaya motorized rifle division of the combined arms army. In total, about 500 servicemen of the Yelninsk division, as well as about 25 pieces of weapons, military and special equipment, were involved in the exercises.
"The artillerymen … for the first time worked out the use of the self-propelled division of the Mtsa-S-M2 self-propelled guns in a unified fire control system in the Bryansk region. The calculations of the Msta-S-M2 self-propelled howitzers used the equipment of the unified tactical control system (ESU TZ), installed for data exchange and fire adjustment in real time, "RIA Novosti quotes representatives of the ZVO.
The new system makes it possible to achieve "information and communication advantages over the enemy in the conditions of modern combined arms combat." With the help of ESU TZ equipment, developed by the Sozvezdie concern, it is possible to transmit information from guidance and control devices, to solve tactical and fire missions in real time. Howitzers were corrected using drones and reconnaissance systems.
"Together with the automated removal of the spent cartridge case and the navigation system, the servicemen were able to achieve a rate of fire of up to 10 rounds per minute," the ZVO stressed.
Network-centric combat operations are the unification of combatants in a reconnaissance and information network, after which information and communication superiority over the enemy appears, which, in turn, increases the efficiency of performing any combat missions.
On January 12, the crews of the S-400 Triumph anti-aircraft missile system (SAM) conducted an anti-aircraft defense exercise in the Arctic region. During the exercise, the combat crews of the S-400 air defense missile system conducted reconnaissance, identification and tracking of the targets of a simulated enemy in the airspace of the Northern Sea Route. The role of the mock enemy was played by the MiG-31BM fighter-interceptors, operating in various altitudes.
[ad_2]