[ad_1]

The eighth Il-76 military transport aircraft with Russian peacekeepers on board flew from Ulyanovsk to Nagorno-Karabakh on November 10. This is reported by the Ministry of Defense of the Russian Federation.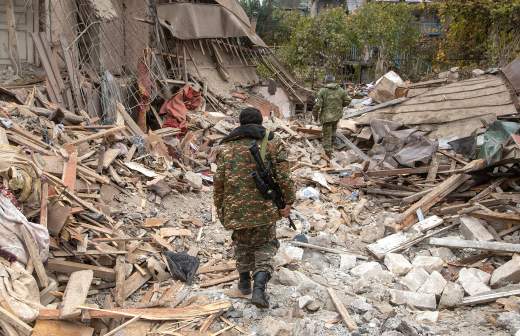 Peace night: how Armenia and Azerbaijan divided Karabakh Full ceasefire agreement reached with Russian assistance
"The personnel of the peacekeeping unit, materiel and armored personnel carriers are on board the aircraft," the message says.
Earlier on the same day, previous planes with peacekeepers, armored personnel carriers and materiel flew from the Ulyanovsk-Vostochny airfield to Nagorno-Karabakh.
As it became known earlier, 1,960 servicemen of the peacekeeping formations of the Central Military District, 90 armored personnel carriers, 380 cars and special equipment will go to Nagorno-Karabakh on Tuesday.
Peacekeepers will be deployed on the line of contact in Karabakh and along the Lachin corridor to monitor compliance with the ceasefire.
Russian President Vladimir Putin, Armenian Prime Minister Nikol Pashinyan and Azerbaijani President Ilham Aliyev signed a statement on the cessation of hostilities in Karabakh.
Pashinyan called the agreement difficult, but no alternative. Due to the ceasefire decision, protests began in Yerevan. The demonstrators broke into the parliament building and beat the speaker Ararat Mirzoyan.
[ad_2]